Nobody wants a cheaply made pre-workout formula filled with excessive caffeine and unnecessary fillers that promise you the world only to leave you devasted on first use.
The Crazy Nutrition pre-train supplement is created with a formula that combines only a unique blend of 19 powerhouse ingredients to enable athletes of different skill levels to have the energy, focus, and determination to achieve the best workout performance.
Crazy Nutrition Pre-Train Supplement Gets You Up & Running!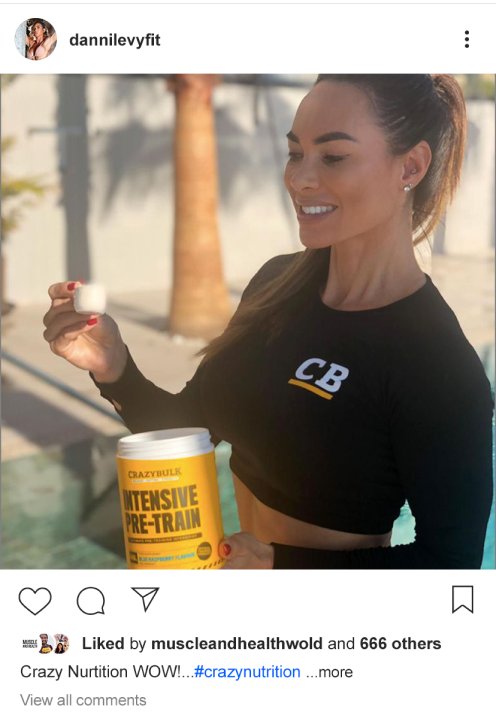 If you're tired of using low-quality products that tend to run your stomach, then the Crazy Nutrition pre-train supplement is exactly the right pre-workout formula that you need. It isn't like other regular pre-workout supplements that sometimes give you the jitters, stomach cramps, or digestive issues.
You only require one scoop of this superb pre-workout formula no matter your age or skill level and you immediately start to feel the energy surge through your whole body as your focus and determination increase.
The pre-train supplement is perfect for athletes whether they run tracks, do Crossfit, work out at the gym, or outdoors. It is designed to amplify your routine and maximize the effects of your workouts. What's more, it tastes incredible with its blue raspberry flavor.
Ingredients in the Crazy Nutrition Pre-Train Supplement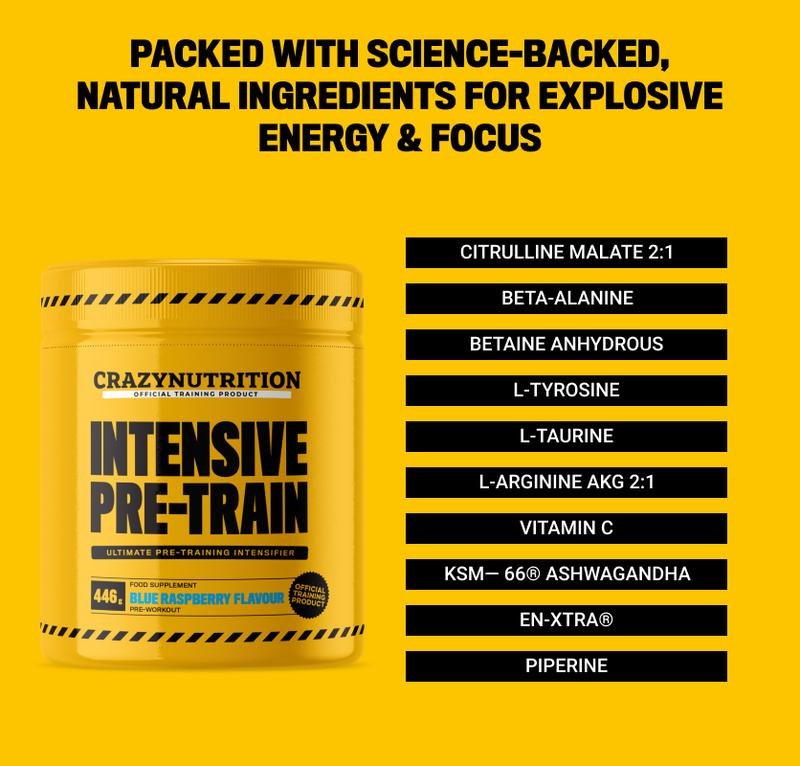 Each serving of the pre-train supplement is 25g, and each container contains 20 servings. Below is a list of all the ingredients contained in each scoop (25g) as provided on the Crazy Nutrition official webpage.
80mg Vitamin C (as Ascorbic Acid)
8mg Niacin
3mg Pantothenic Acid
2.8mg Iron (as Iron Pyrophosphate)
0.7mg Vitamin B6 (as Pyridoxine HCI)
0.7mg Riboflavin
0.55mg Thiamine
100mcg Folic Acid
25mcg Biotin
7g Citrulline Malate 2:1
2.5g Beta-Alanine
1.8g Betaine Anhydrous
1g Glycerol Monostearate
1g L-Arginine AKG 2:1
1g L-Tyrosine
1g Taurine
400mg Glucuronolactone
400mg L-Phenylalanine
200mg Caffeine (Caffeine Anhydrous)
300mg KSM-66 (Ashwaghandha) (Withania Somnifera L.)
100mg En-Xtra (Alpha Galanga)
5mg Bioperine (Black Pepper Extract)
Don't wait, click here to get massive discounts and savings on the Intensive Pre-Train supplement from Crazy Nutrition today
How to Use the Crazy Nutrition Intensive Pre-Train Supplement
Crazy Nutrition's intensive pre-train formula is recommended to be taken 30 minutes before a workout, or whenever you feel like you need more energy and focus. It has a delightful flavor and is simple to use. You can use it in two easy steps.
Step One
Pour one scoop of the intensive pre-train supplement in 400 ml of water either in a glass or in a shaker
Step Two
After adding one scoop, stir or shake and enjoy your delicious mixture as you fuel your body with enough muscle power to crush your workout.
Read: Crazy Nutrition 100% Tri-Protein Supplement Review
Benefits of Using Crazy Nutrition's Intensive Pre-Train Supplement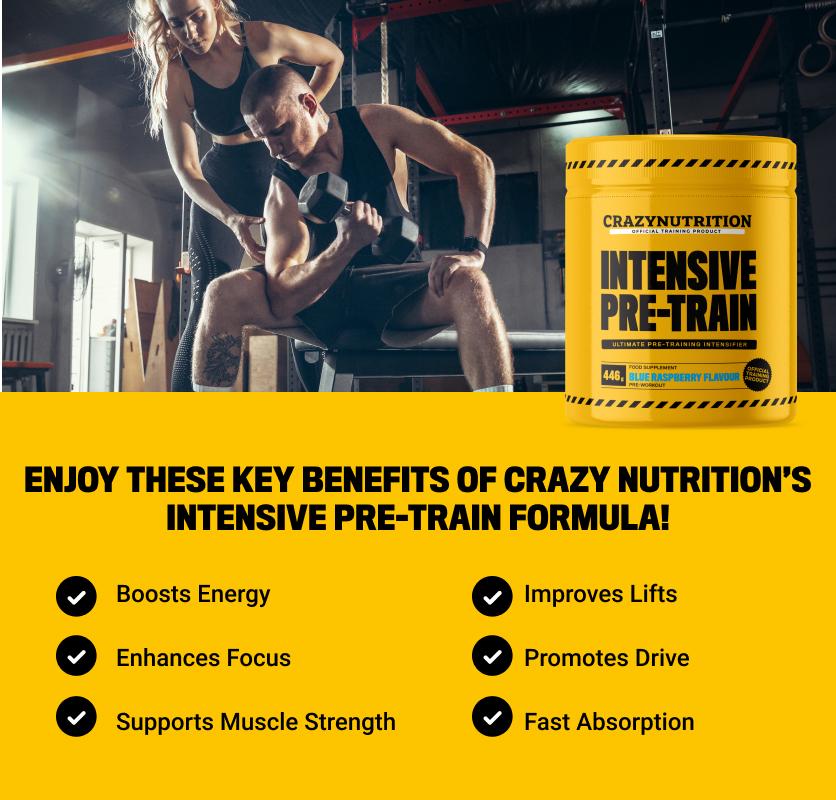 Crazy Nutrition's intensive pre-train formula is formulated to take your workout experience and performance to the next level, and consequent levels. The aim is to get you revved up and ready to go every time and to push you beyond your limits to make your best better whenever you hit the gym.
Subscribing to the pre-train supplement comes with plenty of benefits as described below:
When you inculcate the pre-train formula into your daily regimen, you begin to enjoy an incredible boost in your energy to carry you throughout your workout session without feeling tired.
The intensive pre-train formula helps to increase your focus to enable you to carry out your workout without experiencing brain fog that often leads to low motivation.
Increased Muscle Strength
You are also going to experience intense muscle strength for better workout performances when you use the Crazy Nutrition intensive pre-train formula.
The intensive pre-train supplement helps to improve weightlifting skills and helps you to push farther and harder to beat your best and reach your bodybuilding goals.
When you take the intensive pre-train formula regularly, you will experience a boost in your drive to train harder every time as you regain your confidence in the gym.
The supplement is made with all-natural ingredients that are tested and trusted by scientific studies to work, without the inclusion of unnecessary ingredients and junk fillers. So, you're free from the worry of side effects.
Crazy Nutrition's intensive pre-train supplement includes in its formula, peperine, which promotes better absorption without causing issues related to indigestion.
The intensive pre-train formula includes a delicious blue raspberry taste that you will find enjoyable.
The company offers free shipping to anywhere in the United States and the United Kingdom on orders over $50.
Read: Best Workout Supplements to Get Cut and Gain Muscle [2021 Reviews Update]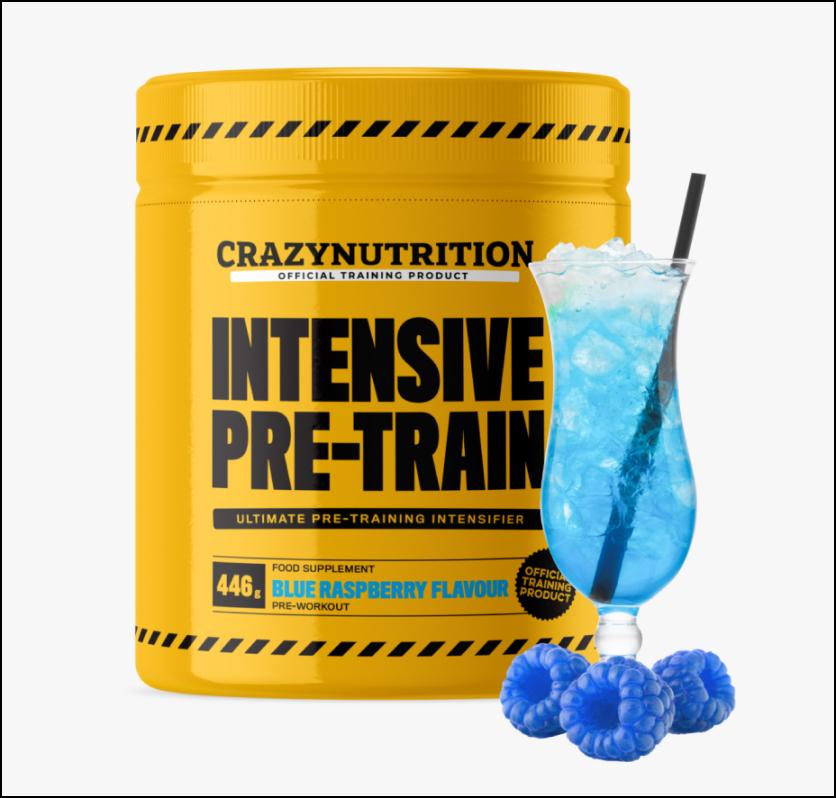 Crazy Nutrition's Intensive Pre-Train Supplement In Comparison With Other Pre-Workout Supplements
What most pre-workout supplements aim to do is to boost your mental health so that you can have more focus and concentration when working out but they don't help you to achieve your bodybuilding goals.
But boosting focus and concentration is not only the main objective of Crazy Nutrition's intensive pre-train supplement. The goal is to provide you with all the support you need to experience better workout performances every time you're at the gym including increasing your strength and enhancing your weightlifting abilities.
And unlike some other pre-workout formulas, Crazy Nutrition only includes powerful and necessary natural ingredients with no extra junk that some other companies make you believe that you need. It uses a low-carb and vegan-friendly formula. And even better, it comes with an incredibly delicious taste that almost anyone would love.
Let's not forget a very important issue which is the issue of legality. There has always been an issue of legality concerning the usage of certain bodybuilding supplements. That is why Crazy Nutrition introduces a legal alternative into the market. The intensive pre-train supplement is legal in countries around the world.
How You Can Purchase Crazy Nutrition's Intensive Pre-Train Supplement
You can get a one-time purchase of the supplement from the company's official website for $39.99. But you can rather choose to save more and opt into their subscription package depending on how often you work out in a week and the company will periodically ship your product to you so that you never run out when you need it.
For instance, when you go for the 5 weeks subscription package, you save 20% and the supplement becomes available for $31.99. The company will then ship you one tub of the intensive pre-train supplement every five weeks.
And of course, you don't have to commit to it if you don't want to. You can simply cancel your subscription at any time the need arises.
The intensive pre-train supplement is only available on crazy nutrition's official website.
Intensive Pre-Train 60-Day Money-Back Guarantee
Although the company is extremely confident in the effectiveness of its products, it does provide a way to ensure that its customers are protected just in case there are a few exceptions.
And because the company realizes that people and their environments are different in their way, and so what works for one may not work for another, it provides a way to ensure that customers who do not get the expected results from using the intensive pre-train formula can get their money refunded to them without any trouble.
With the 60-day money-back guarantee, the company provides its customers with 100% coverage.
Customer Feedbacks about Crazy Nutrition's Intensive Pre-Train Supplement
It's always advisable to pay attention to customer reviews before beginning any health regimen. Customer reviews will give you an insight into what to expect from the product before you opt-in. That way, you will know whether the product is worth taking or not.
Below are some reviews of customers who have used the intensive pre-train supplement, including reviews from a few reputable athletes. Read what they have to say…
Ready for the pre-train supplement powder to get you up and running? You can order your Crazy Nutrition Pre-Train powder by clicking this link to get up to 40% off. Don't forget this delicious blue raspberry flavored supplement contains 19 powerful ingredients every athlete needs.