If you're looking for an effective guide on how to get an hourglass figure when you're skinny, this article will give you tips, and tricks for an hourglass figure and workout plans to help you get your desires hourglass shape.
Before this era, being thin used to be so cool and women put in work to lose weight be seen as trendy. Now things have changed 180 degrees.
A skinny or thin body is not attractive and most women use accessories such as butt pads that lift the buttocks to highlight their best assets.
In fact, a lot of women with the cash to spare have dabbled into Brazilian Butt Lift (BBLs) and Mastopexy (breast lift surgery) to enhance their look.
Today, only a curvy body or an hourglass figure is feminine. In fact, it is a priority for every woman.
Wide thighs, fuller chest, and narrow waist are the three main attributes of an hourglass figure. More specifically, your chest and hips are about the same size, and ideally, your waist is about 9 inches smaller than your chest.
For plus-size women who want an hourglass figure may need to reduce a few pounds, while skinny girls who want to achieve an hourglass figure will need to gain a little weight.
To get an hourglass shape, means there are three target areas to work on:
Your upper body
Your waist
Buttocks, thighs and hips
The emphasis on what you do depends on your natural form.
If you're already skinny, the first thing you can do is build muscle around your shoulders and chest area to make it wider at the top.
If you are heavier on or around your midsection, you may want to lose a little bit of weight so you can get your desired figure.
How to Get an Hourglass Figure if you are Skinny
Basically, to get an hourglass figure when you are Skinny, you need to increase the amount of food you eat, eat healthy solid foods that will help your lower body grow, and do some regular exercise to tone your body.
Also, wearing a waist trainer while working out is another great way to get an hourglass figure if you are skinny.
In this article, we'll look at an hourglass shape diet and exercise plan that can help skinny girls build their bodies to achieve a beautiful figure.
Typically, standard hourglass sizes are 36" chest, 24" waist, and 36" hips. Some women are naturally born this way, but if you don't fall into this category of women and want to build your body to a standard, this review is for you.
There are basically two main components to building your body to fit a standard hourglass shape. They include:
Diet
Workout plan consisting of basic weight lifting
Some of these exercises can be done at home while others may require the use of fitness equipment. If you are uncomfortable with fitness equipment at the gym, you can purchase a piece of fitness equipment and use it from the comfort of your home.
Hourglass figure diet plan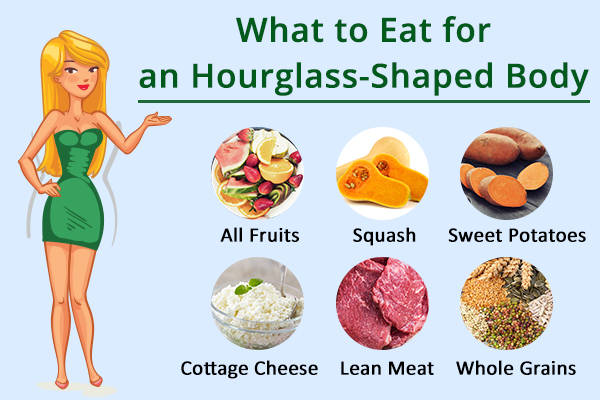 Proper nutrition planning will help you get an hourglass figure when you are thin.
Your hourglass ratio should be fresh, nutritious, and high in calories.
Consume more protein and soluble fiber.
Increasing protein intake is essential for building muscle, making it an essential food in your hourglass figure meal plan.
Consumption of protein helps you feel full longer, thereby limiting excessive pleasure and weight gain for skinny girls.
Eating protein also helps restore and strengthen muscles so you can achieve an hourglass figure.
It is also important to note that eating high-fiber foods will help improve your body's digestive system. This in turn makes your stomach really slim, fit, and great.
Include dairy products in your diet to help prevent calcium deficiency. You can easily achieve this by using Greek yogurt, low-fat cheese, or skim milk. If you're a person who doesn't like dairy, then wild fish (like salmon) and lentils will do the same.
Hence, we recommend that you eat natural sources of protein such as chicken, fish, beef, eggs, etc., but sometimes it can be a bit difficult to meet your daily protein needs, so we recommend that you take protein supplements such as whey protein.
Reduce your intake of sugar and sweet foods
Reducing your sugar intake doesn't mean you have to stop your hourglass-figure diet completely. Sugar consumption is associated with excess body fat.
Limit the consumption of foods with added sugar and read labels properly before buying.
Avoid processed foods and eat more fruits and vegetables
Eat more vegetables, fruits, whole grains, legumes, and lean meats. These foods are rich in the vitamins and minerals your body needs to stay lean while building hourglass-shaped muscles.
Avoid processed foods such as cheese, canned vegetables, bread, cereals, pastries, and spicy snacks such as cakes, snacks, pastries, sausages, and others.
These foods are offered with very low or no nutritional value and are loaded with calories, making them an unhealthy hourglass ratio diet to include in your diet.
Avoid soda and alcohol
Soda and alcohol should not be included in your hourglass diet plan because they are high in calories and have no nutritional value.
Diet sodas primarily increase your appetite for sugar, which is unhealthy for you. Excessive alcohol consumption leads to belly fat and junk food cravings. This drink will make you gain weight in the midsection which will interfere with your hourglass shape goals.
Drink lots of Water
Water is your best friend and it should be an integral part of a fitness routine and should be part of your hourglass ratio diet.
Make sure to track your water intake, especially when you exercise, you need to replace the fluid lost due to sweating so that the cycle of detoxifying your body continues.
It is advisable to drink at least 8-10 glasses of water every day. Drinking a glass of water in the morning activates your metabolism.
Gaining Weight to Build Muscle for Hourglass Figure
Gaining weight is an important part of maintaining an hourglass shape when you are thin.
The hourglass figure diet should focus on increasing the amount of calorie intake by about 500 -1000 calories more than usual in a day.
This will help you build muscle to achieve an hourglass figure.
Increasing your calorie intake doesn't involve eating junk food, but rather more protein to help you build muscle mass. So the ideal hourglass ratio should aim for 1.5 grams of protein per pound of body weight.
Carbohydrates and protein are important for thin women to gain weight and build muscle mass for the perfect shape.
For thin women, gaining weight with an hourglass look will help you gain at least a pound a week significantly and burn about 2,100 or 3,400 calories.
According to some experts, as the diet with the best hourglass ratio, it would be better to eat 5 times a day instead of 3 regular meals.
Additionally, an hourglass figure nutrition plan should include foods from all groups to get all the nutrients you need.
If you want to make sure you're getting the right number of calories and the right nutrients, the first thing you can do is learn more about macronutrients.
In general, macronutrients are proteins, carbohydrates, and fats – which provide calories or energy for daily activities.
Consider taking mass gainers
This is not absolutely necessary, but if you are a person who is struggling to get the daily calorie intake needed for weight gain, you can try drinking a shake to gain weight.
You usually have 500-1000 calories in one serving of a single shake. Remember not to over-eat unhealthy foods.
The proper hourglass figure Diet for skinny women
Great breakfast
Focus on having a big nutritious breakfast which is essential for weight gain for skinny girls who want to achieve an hourglass figure.
An hourglass figure diet should consist of protein to build muscle mass. You should also eat less saturated fat and cholesterol.
For example, if your daily calorie intake is 2,000, then there should only be 120 saturated fat to the ideal hourglass ratio.
Lunch meal
Your hourglass diet plan for lunch and mid-day meals should include more fruits and vegetables. 3 ounces of chicken meal on whole-grain bread and a slice of Swiss cheese and vegetables would also make the perfect hourglass diet for lunch.
Your lunch should also incorporate high-calorie snacks like apples, pears, bananas, and whole-grain cookies which you can spread with peanut butter.
Dinner
The perfect meal plan for an hourglass figure for dinner should include proteins like lean meats, eggs, beans, and cheese with vegetables. You can also eat low-fat yogurt or a glass of nuts before bed.
For dinner, you have to focus again on more protein intake.
How to Get an Hourglass Figure Diet
It's recommended that you get Burn the Fat to be able to plan and organize effective hourglass diets on your own. However, for sample purposes, this is what an hourglass diet should look like:
Your hourglass diet should focus on eating larger breakfast portions, moderate lunches, and smaller dinners.
Also, remember that your diet should be low in fat, especially if the source is dairy fat. Your diet should completely eliminate coffee and black tea because these drinks contain caffeine.
Day 1
Breakfast: omelet with vegetables, sprouted beans, or gluten-free toast
Snack before lunch: pear + almond
Lunch: Tuna salad prepared with mustard and olive oil with mixed vegetables and greens
Dinner: vegetable soup with salad
Day 2
Breakfast: oatmeal with almond milk, cinnamon, and walnuts.
Snack: boiled egg
Lunch: Grilled chicken breast with lots of steamed or fried vegetables
Dinner: Chicken skewers with balsamic glaze and brown rice.
Hourglass Figure Workout Plan at Home
Now diet alone cannot get you your desired hourglass figure, you will also need to have an hourglass workout plan to burn off unwanted fats, tone your muscles and get a slim waistline.
Your exercise plan should importantly focus on trimming your, flattening your lower abdomen, and toning your thighs and hips.
It's advisable to alternate between exercise day for upper body and ab toning day and leg/booty day. Do not target the same group of muscles repeatedly as your muscles need to rest and grow to give you the hourglass figure.
You can get a hold of Zoe-Bray Cotton's Yoga Burn training and follow the visual Yoga class designed to help you get a bikini hourglass beach body. It's highly recommended that you do, as over 1m women are following the training judiciously.
However, here's what a sample core training to get a bikini body should be:
Trim your waist and strengthen the core
An hourglass figure requires that your waist be kept smaller than your bust and your hips. So, even if you are naturally skinny, it is best to still work out your core to keep it tight while you are trying to grow your hips and your booty.
To trim your waistline and strengthen your core, you should consider doing the exercises below:
Sit-ups
Crunches
Hip-thrusts
Planks
Side Plank
Get Abs
An hourglass figure training plan at home includes exercises to help you build muscle around your buttocks.
The ideal exercise to achieve this is lifting weights and gaining weight. Your main goal is to promote adequate muscle gain in this area, as well as low-fat storage, including drops, deadlifts, and squats.
Barbell squats are essential when you need to sculpt and enlarge your buttocks.
Also, barbell and sumo deadlift strikes are basic training routines to incorporate into your home hourglass figure workout plan. Heavy barbells and lifting them will strengthen the gluteal muscles, which will gradually help shape your buttocks.
Wear a waist trainer
Wearing a waist trainer, especially when working out, will help keep track of your hourglass figure quests if you are thin.
Don't wear the trainer around your waist for too long for quick results. Doing so will be counterproductive and may burn or bruise your skin.
You should wear it for about 3-8 hours a day. Your trainer's waist should not be so tight that it prevents you from exercising or breathing freely.
If you find it impossible or unbearable to do anything with your waist workout, then the waist trainer is definitely not your size, so pay great attention to your size when buying a waist trainer.