You want to have abs right? You want that strong chiseled look that you only see on pro bodybuilders and TV stars right?
You must have heard of how good diets and workouts coupled with the right supplements can turn your body magically into an athletic build that's a delightful sight to behold.
When it is about building abs, most people hurry into doing exercises like crunches and sit-ups because it is a common thought that the muscles become evident when worked and built up.
However, that may not always be the case. Abs is most evident when there is less fat surrounding the belly muscles.
This brings me to the question;
Is whey protein good for building abs?
The long and short answer is yes.
Whey protein as the name implies is a rich quality protein source that can boost not just your body's protein (which is of course the building block of the body) but also the BCAA (branch-chained amino acids) intake.
Athletes, bodybuilders, and people who are looking to cut down fat and build muscle mass need more quality protein which the body absorbs quickly, and this is what whey protein, a derivative of milk (20% of milk is whey and 80% is casein) offers.
PS: Since it's a derivative of milk, people who are lactose intolerant need to be careful, most likely discuss with your doc before using.
Before we proceed, let's quickly talk about the best supplements for building abs…
What Are The Best Supplements For Building Abs?
If you're looking for supplements to build abs, while there are lots of options available in the market that promises chiseled looks in weeks or months, whey protein and its variants are some of the most healthy supplements for building abs.
To help you skip the research and sift through the hundreds of options, check out some of the tested and proven supplements you can take to the bank that will help you achieve your desired 'ripped' midsection.
Protein Powder
If you are serious about building muscles, then be prepared to invest heavily in protein powders.
This is because whey protein helps to improve the body's metabolism, build new muscle tissues, and increase muscular endurance and performance during a workout.
Protein powders improve your BMR (Basal Metabolic Rate) which leads your body to expel more calories and hence lose much more fat.
Our favorite protein powder for building insane abs, increasing muscle gains, boosting energy is Crazy Nutrition's Tri-Protein.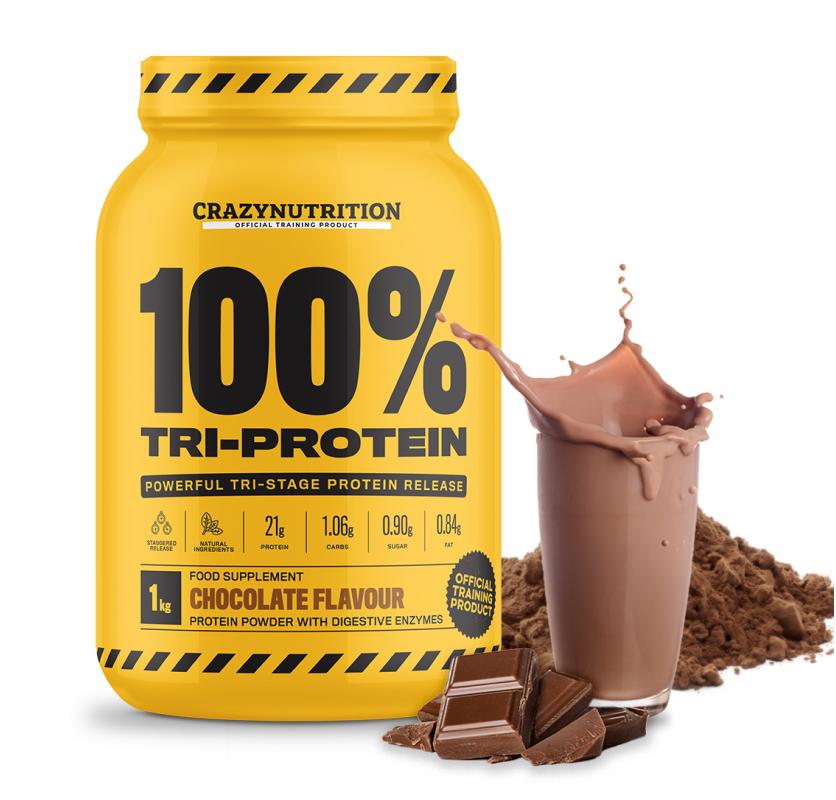 It's a delicious protein powder that is great for morning shakes, pre and post-workouts, etc. This 100% nutritional supplement contains six (6) potent proteins that give you the energy to go harder with your workout.
Click Here to Check Out Tri-Protein and Get up to 40% Savings Today!
Thermogenic Fat Burner
Being ripped is all about eliminating fat to unveil the built abs muscles. Thermogenics are supplements that eliminate fat by increasing body heat and heart rate when you rest.
These function to help torch out the excess fat that has covered your abs for so long. Other supplements fall in the same category as the thermogenic but they eliminate fats by blocking off carbs and fats altogether.
They also keep you feeling full for longer so you do not reach for more food and stop the body from storing cortisol.
Our top thermogenic fat burner is the number one (1) weight loss supplement on the market – PhenQ.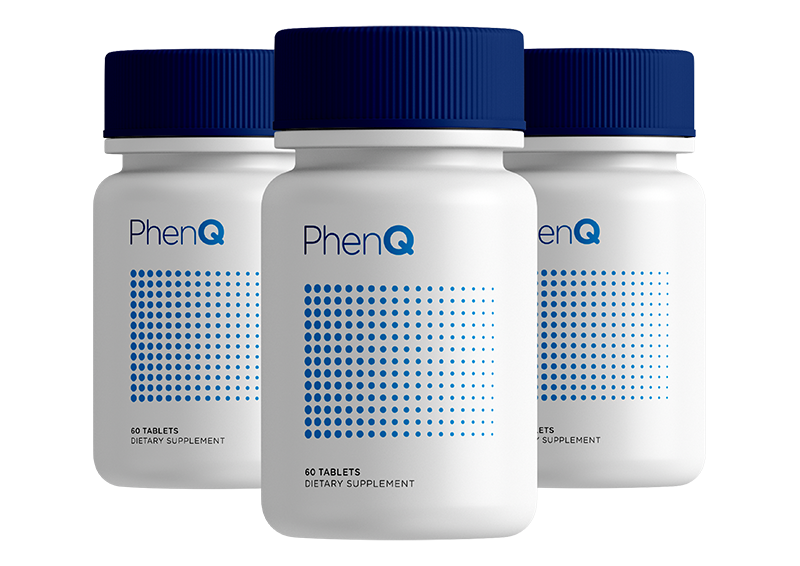 Click Here to Check Out PhenQ and Get up to 40% Savings Today!
Conjugated Linoleic Acid
CLA is mostly found in dairy and beef. If you are thinking of getting ripped in your midsection, then you need to trust the potency of CLA in eliminating excess fat.
Today, agricultural techniques drastically reduce the composition of CLA in dairy and beef, so getting them back in supplements is critical to getting that ripped look you have always wanted.
Beta-Alanine
Beta-Alanine works like a power booster for your muscles when you work out. They help buffer the hydrogen ions found in the muscles and reduce the acidic environment (which makes muscles fatigued easily).
This is done by the production of carnosine and with this supplement, you would easily do repeated reps and workouts for an extensive period – which is important for fat loss and revealing toned abs.
There is a carnosine supplement for improving muscle endurance but taking beta-alanine (which turns into carnosine) is better because it is easily digestible and absorbable by the body, the former is not.
Of all these supplements, the most used by professional athletes is whey protein and this is understandable because of the potency of the product. It is extracted from milk and constitutes around 20% of it. During processing, the whey component of milk is extracted (very watery) and then used to make the whey protein supplement.
Therefore, while others see whey protein as simply a cheese by-product, athletes attach much more value to it.
Increasing stamina and strength for high workout performance as well as amassing muscle gains while reducing body fat are all an easy job once whey protein is brought into the mix. With all these in place, your abs are going to be obvious and rock-hard.
Other potent supplements for building abs according to various reviewers who tried and achieved good results with them include;
Brutal force is new to the supplement business but users of their offerings have nothing but positive things to say. For people looking to build abs, the CCUT by brutal force is an exceptional offering.
Made with natural ingredients, CCUT is a legal clenbuterol alternative that mimics the performance and thermogenic properties of the steroid without bringing its side effects.
Brutal Force CCUT promises to cut fat quickly if you're on the heavier side while retaining lean muscles.
Some of the potent ingredients of Brutal Force Ccut include Garcinia cambogia extract, Guarana (Paullina Cupana Knuth) extract, Griffonia Simplicifolia extract, and more. If you're vegan, won't have a problem with this supplement as it's entirely made of veggies.
Brutal Force is a new company and they're trying to break the tight barrier of the fitness supplement market, so for a limited time, you can order 2 bottles of Brutal Force CCUT and get 1 bottle free at heavily discounted rates.
Click here to learn more about Brutal Force CCUT and to purchase at a discount.
This supplement is especially formulated for men to burn that body fat and gain lean muscle. Since the supplement was launched it has had a high acceptance rating with a rave of positive reviews from satisfied men.
The brand is relatively new like Brutal Force, but one thing that makes them stand out is their transparency in the formula used.
Unlike many fat burners on the market where ingredients are shrouded in mystery, Primeshred details every ingredient used and the exact amount used.
Made in the USA and manufactured in FDA approved and GMP-certified facility with strict quality control protocol, Primeshred offers safe and effective pills for men looking for the alpha male body.
PrimeShred uses a 3-stage approach to get you that dream body. First, you get your metabolic rate up to hasten up the fat-burning process and get more energy – even when you're doing absolutely nothing.
Just like Brutal Force, you can get one extra bottle on purchase of 2 bottles or 2 extra bottles on the purchase of 4 bottles of PrimeShred.
The best part is, your money will be well spent and if you don't for any reason like the product (which is vegan friendly I should add), you can simply request a refund. No questions asked.
Click here to learn more about PrimeShred and to purchase at a discount.
Crazy Bulk bodybuilding supplements are some of the longest existing, FDA-approved, tested, and trusted 'legal steroids on the market. For building abs, Crazy Bulk has a lot of supplements that will help you achieve a chiseled look.
From Trenorol to D-Bal, Clenbuterol, and even stacks, you will have a lot of options, especially as a new bodybuilder. This is why instead of recommending one particular Crazy Bulk supplement; I'll let you make the choice yourself.
Here's your cue to find what crazy bulk supplement will work just right for you. All you need to do is supply some details about yourself by clicking the drop-down options. Select your age, gender, goal, and work out and let the product selector find what you need.
For a chiseled look (building abs), I recommend selecting 'muscle cutting' instead of lean muscle.
Click here to find out the Crazy Bulk Bodybuilding Supplement that will work for your building abs.
What Are The Benefits Of Using Whey Protein Supplements?
A research article that was published on Nutrition and Metabolism admits that whey protein promotes weight loss.
The research was done using 158 participants and some were given whey protein as a part of their diet. Those who had whey protein recorded massive weight loss and muscle gains as compared to those who didn't.
Besides, weight loss isn't just all there is to whey protein. Here are some of the advantages of the supplement:
Reduction in the level of bad cholesterol
Helps in reducing blood pressure as well as the risk of suffering cardiovascular diseases
Increases bone density and helps you combat osteoporosis
It can also help with stress/depression and help kids fight against asthma.
Can You Build Abs With Whey Protein?
Building abs is all about grooming your belly muscles and eliminating the veil of fat on them so they can become obvious. To build up belly muscles requires a healthy diet, and exercise.
Whey protein supplements help to add the nutrients that are missing in your diet and so much more – like causing your muscles to become bigger and stronger, plus eliminating the excess fat.
When your performance in the gym is increased, your muscle size will increase too and the heat from your increased metabolic process would torch excess calories that pile up and conceal your abs.
So yes, if you want to build abs as well as other body muscles, you would need whey protein.
Best Whey Protein Supplements for Building Abs
If you are looking for a whey protein supplement to buy to get abs, we have picked out some of the best products that you can invest in for the best results. Here they are.
Any little effort at the gym would be augmented by the use of this popular-with-athlete whey protein.
Body Fortress is cheap but produces gains that are directly proportional to how much energy you put into your workout routine. That means with a small budget, you can get bigger gains as long as you are determined.
Each serving of this whey powder contains about 12g of BCAA and 60g of protein. The powder is aspartame and gluten-free, and as long as you are willing to give your all in the gym, this whey protein powder gives you 100% results of abs right back!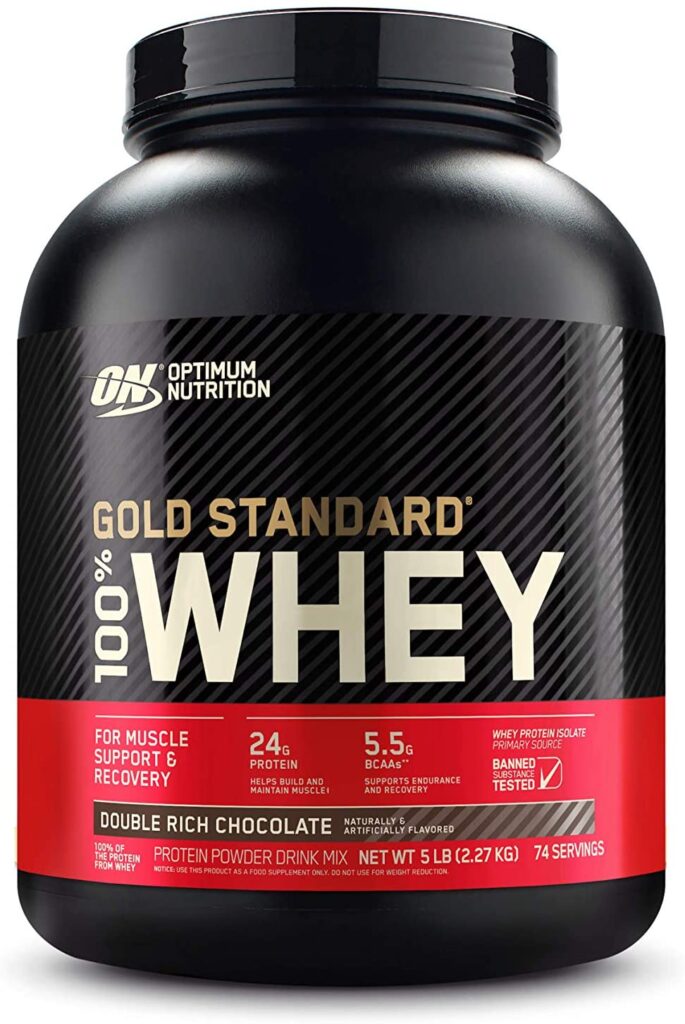 This whey protein product is not just called the Gold Standard for nothing. It comes in various flavors and can be used pre or post-workout.
You may decide to use this protein powder before or after meals or even with your meal – it doesn't matter when, as long as you decide that your body needs the protein requirements.
It is a blend of whey proteins and peptides that help to achieve a lean ripped body and expose your abs.
The Gold Standard whey protein is tested and doesn't contain any banned substances, so when you purchase this best-selling product, you know you are not only buying quality but also playing on the safer side of things.
It comes in various sizes, so you can choose to purchase the 1, 2, 5, or 10-pound volume of the product.
Bottom Line
Whey protein is like a do-all for athletes who want to achieve a leaner, stronger, muscular, chiseled, and ripped body.
They are extracted from dairy due to modern processing and then used to make the supplements, so your milk lacks it.
If you want to get the goodness of whey protein, you have to invest in the supplements, and in a few weeks, you would have achieved the kind of body that excites you.